Thank you to our speakers, sponsors, and delegates who joined us in July for the Summit! If you are interested in the 2024 event, please get in touch at info@hansonwade.com









Join Us in Boston Again Next Year!
About the 5th Industrializing Cultivated Meat & Seafood Summit
Revolutionizing the Bioreactor, Culture Media & Cell-Line Scale-Up, to Develop Cultivated Meat and Seafood that is Affordable and Accessible Globally
With UPSIDE Foods recently receiving 'no further questions' from the FDA, the race to advance cultivated meat and seafood from petri to plate is on! As the field turns their focus to optimizing their bioprocess and refining cost-effective scale-up approaches, don't miss your opportunity to hear detailed case-studies to advance your development infrastructure and bring to market cost-effective and scalable products.

At the only business-to-business forum dedicated exclusively to accelerating cultivated meat and seafood products to market, join BlueNalu, Fork & Good, Umami Meats, the Good Food Institute, the FDA & USDA and many more industry leaders to benchmark solutions for affordable bioprocessing.
Join to discuss the most prevalent issues preventing cultivated meat and seafood products from reaching the market. With sessions dedicated specifically to refining food-grade economical media and cell-development; navigating the investors minefield; building bioprocessing infrastructure and gaining regulatory insights to streamline the approval process, the Industrializing Cultivated Meat & Seafood Summit is your one-stop-shop for achieving regulatory approval and progressing your product to shelves and tabletops across the globe.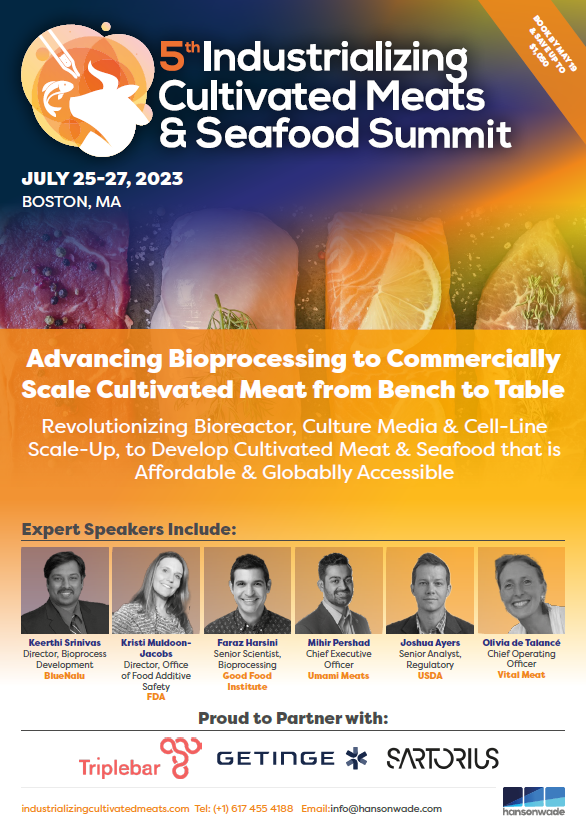 World-Class Speaker Faculty Included:
Previously Attending Companies Include:

''Attending the Industrializing Cultivated Meat and Seafood Summit provides an excellent opportunity to keep apprised of current developments in the cultured meat space. I very much appreciate the interactive format and the breadth of topics covered.''